---
---
---
Super-Pianist Masahiro Saitoh
By Mika Tanegashima de Tellez, editor
---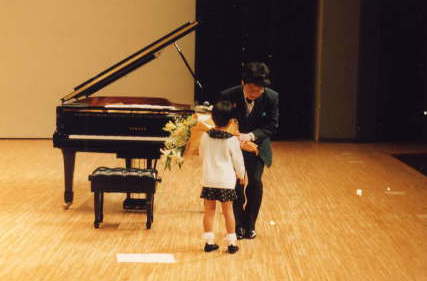 People have always talked about Masahiro Saitoh with such expressions as "Horowitz of Tokyo University", "Super-Pianist", "Mozart-like Genius", and in 25 years after his brilliant solo debut, his image as the "Great Artist" has been established.

He wears countless hats. This 43-year old artist is a popular comical character Key-Bouzu of NHK TV program produced by him in order to introduce the joy of classical music to children; an admired piano instructor on NHK TV program for middle-age beginning level students; an exciting TV personality followed after all over Japan by a large and organized crowd of his fan club; a virtuoso soloist performing with major orchestras from around the globe; thrilling chamber music player in high demand; and a sensible accompanist highly praised by world-class singers. He is also known as a "preacher of classical music" among his colleagues for his frequent appearance on various media making classical music popular among people previously not exposed to it. Recently, he has not only produced many innovative programs of his own, collaborating with unusual artists such as Japanese classical dancers, ballet group or shadowgraph theater company, but also conducted some orchestras.

Sakura: I would love to hear your performance in Washington, DC in the near
future. Wouldn't you be interested in doing your 25th Anniversary tour concert?
Saitoh: I would be interested in doing special concerts in the United States, once the world affair is stabilized. However, there has been some cancellation of overseas concerts in recent days (due to the war against terrorism), such as the one in England. If I were to perform in the United States, I would like to comfort the souls of people in America who suffered from the terrorism and its aftermath with the healing power of music. I would also like to experiment with my own compositions such as "Goshe the Cellist" based on Kenji Miyazawa's novel, or "Moon Princess" based on Japanese folk tale Kaguyahime with a Japanese classical dancer.

Sakura: The famous Hungarian singer Ilona Tokody said that she was convinced you had a Hungarian blood in your family when you played Hungarian songs with her. Do you communicate with world-class musicians in English?
Saitoh: Yes, and a supernatural power. (Laughing).
Sakura: (Laughing) It is true that musicians are equipped with communication skills that go beyond verbal language.
Saitoh: Exactly. After I won the first prize in the Japan Music Competition and graduated from the Tokyo University of Fine Arts and Music, I was invited to live and take lessons in the house of Czerny-Stefanska in Krakow, Poland. In the great musical family tradition, they had welcomed talented pianists such as Liszt to their home to give lessons free of charge. Every morning, she would say in Polish, which I understood none of, "Masahiro, there are four kinds of people who play the piano. The first one is a "student" who is training to win competitions; the second one is a "pianist" who plays the piano to make a living; the third one is a "musician" who studies how to play a Beethoven piece. An "artist", one must create by oneself and give it to others. Masahiro, you must be the fourth one, an artist." As I said, I knew no Polish, but I discovered I was understanding every word when later we asked a Japanese language teacher to translate it.

Sakura: It appears that there is a lack of public and private supports for classical music in Japan.
Saitoh: I think it is necessary that the classical music becomes more popular among all people. Musicians need to revitalize the music world. In order to do that, all musicians should work together with a sense of mission to widen the door to the classical music.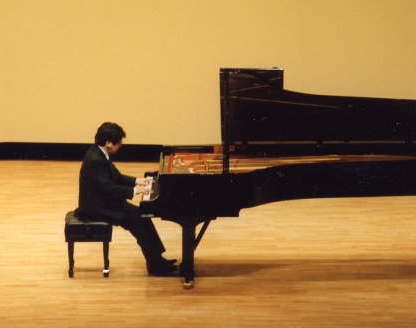 Sakura: We cannot start to talk about you without the famous Key-Bouzu character on TV, but how did you come up with such a, permit me, strange costume --- purple kimono, monk's vest with keyboard patterns, a wide belt with musical notations, and an yellow-frame pair of glasses!
Saitoh: To tell you the truth, there are variations such as Key-Bouzu Mexicana and American Key-Bouzu. (Laughing) From my experience in performing many children's concerts, even small children can listen to the classical music quietly depending on how we present it.
It is like giving an authentic cup of coffee to a child who has never drank coffee. I will not dilute it with excessive milk and sugar just because it is a child. Instead, I will briefly explain about the bitterness of coffee and the variety of coffee beans and serve a cup of excellent coffee. Even if I say, "let's drink although it is bitter," they will say, "I do not want to drink it because it will be bitter." It is okay if they say, "It does taste bitter." By drinking the real coffee, they will understand how the coffee tastes. Among them, there will be some children who will come to appreciate its aroma or the flavor. In short, I would like to play a concert that produces real classical music fan in the future instead of play a concert to make people understand classical music now.
If they saw a TV character called Key-Bouzu long time ago, they may be interested and try to go to a concert, I think.

Sakura: Could you tell us about your future plans?
Saitoh: I will continue to work hard to give high-quality performance. In terms of kind of music, I would like to play music of Chopin, Schumann, and Listz all my life. They are so deep and we can play differently each time.
I often compare classical music to Rakugo (Japanese classical comic story telling). The introduction "Jugemu Jugemu" is the same part no matter who performs, yet it is always different depending on how it is said, the nuance, and the performer's condition on that day. It is possible to appreciate such subtlety and details in classical music, too
.
Sakura: Do you have any message for people who are studying the piano?
Saitoh: To give bold performance, one must live a bold life, and to give performance people like, one must live a life people like. Musician's life principle and performance are closely connected and should not be separated.
Please do not quit, and continue playing. I always wish people to survive with ideas and creativity every time I see someone with talents giving up professional musician's life. To be honest, I, too, had rough period when continuing musical career was very difficult. It is true that profession in music does not pay. However, problems we encounter doing music will always be solved and rewarded by music. There will be challenges, but I would love to work together with everyone to overcome them. Music is so wonderful, you know.

Sakura: I know. Thank you for your time.
This article was originally published in Japanese in a newsletter Sakura Tsushin, January 2002, Vol. 5, in Washington, DC, USA. To send a comment or order a copy of the article, please send a self-addressed envelop to:

Mika Tanegashima de Tellez
c/o Sakura Association, Inc.
P.O. Box 1694
Rockville, MD 20849-1694
USA

Sakura Association, Inc. is a 501(c) non-profit organization.
For more information, please call at 202-310-1442 (voice mail) or e-mail at sakura_association@hotmail.com.

All rights reserved. c
---