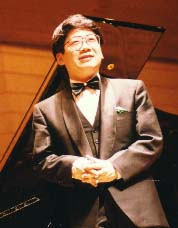 Masahiro SAITOH, a renowned and brilliant pianist, is one of the most outstanding Japanese artists of his generation. After graduating from the Tokyo University of Fine Arts & Music, he studied under H. Czerny-Stefanska in Krakow, Poland.

In 1977, he was awarded the first prize at the Japan Music Competition and received awards in 1980 and 1985. He was invited as a soloist to the International Music Festival in Ukraine in 1995, and the International Piano Festival in Poland in 2012.

He has performed with major orchestras in Japan, the KBS Symphony Orchestra in Korea and the chamber orchestra, Pro-Arte Munchen, Staatskapelle Weimar. His chamber music credits include performing with Josef Suk, Peter Schumidl, Wenzel Fuchs, Ernst Ottensamer, Jouko Harjanne, the Via-Nova Quartet, Janacek Quartet, New Budapest String Quartet, Salzburger Oktett, the members of the Orchestle National de l'ORTF and the members of the Vienna Philharmonic Orchestra, which are all highly acclaimed.

A great deal of his work includes concerts with distinguished singers, such as Lucia Aliberti, Francisco Araiza, Ritva Auvinen, Hans Peter Blochwitz, Denyce Graves, Vincenzo La Scola, Camilla Nylund, Laszlo Polgar, Juan Pons, Ilona Tokody, Tom Krause, Simon Estes and others. He enjoys an established reputation as one of the best pianists in Japan.
(He has performed withc.
http://anatadare.exblog.jp/6534729/)

Since 1994, he has directed master classes and he is also a regular perfomer on NHK TV.